Johnny and Diva Beth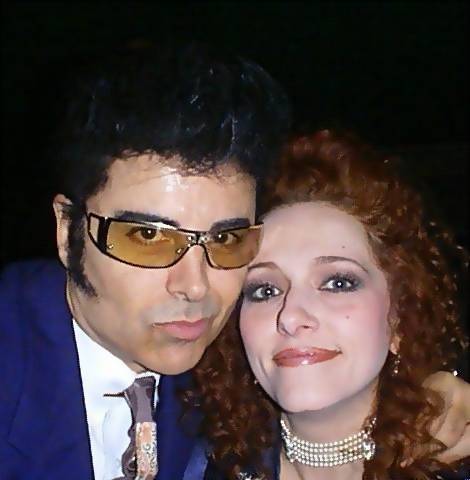 Johnny, I'm stuck to your wax!
Sometime in late November of 1997 was my very first time. My first glimpse of the show, my first glimpse of the music, and my first glimpse of the man who was to become my very favorite entertainer.

It was at the Whirlaway Lounge above the Hogsbreath Saloon in the French Quarter. What a night it was. What a fascinating show and super cool place that was. People everywhere dressed in their finest vintage fashions, absolutely the WORST comedian I have ever heard, a burlesque dancer, and Julia LaShae, Johnny's redheaded canary rounded out the entertainment for the night. I wasn't one of the lucky ladies to meet Johnny that night, however. I had to wait until a couple months later at the Rivershack for that experience. I went with my best friend, Blonde Beth and her friend Trish for a birthday celebration. We couldn't decide if we should go to Red Room or Rivershack (two extreme choices, huh?? ) so the deciding factor was who was playing each venue. Johnny Angel and the Swingin' Demons won out! Johnny made it a birthday for Trish to remember, as well as, won the hearts of two new fans. (I've never seen Trish again!!) Johnny introduced himself to me and the next thing I knew I was on the stage with him as he said to the band, "Look what I found!" He sang "Buona Serra" to me and taught me my first swing steps. Martinis kept Johnny from remembering that night. A few weeks later I was at Red Room and there I met Julia. Martinis kept Johnny from remembering that night, too. But I kept showing up and loving the show until he finally remembered me and then some months later actually remembered my name!! The rest, as they as, is history. I haven't stopped coming since!