Beth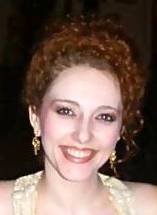 GeauxCajan@aol.com
1. Dream vacation? Home? Car?

The dream vacation would have to be one that is active for the mind and soul. I would love to tour ancient Greek ruins, or explore the pyramids of the Valley of the Kings in Egypt. The Mayn ruins in Mexico, Easter Island's mysterious statues, and long forgotten castles of Ireland's coast would be equally fascinating. Exploring museums, churches, curious antique shops, and hours of lingering over Chocolate _Mocha coffee discussing all we saw and did would definitely round out the perfect vacation. For these things I would even wear..... sensible shoes!

2. If you could have lived in another time, when would it be and what
would you be doing?

Another time, another place, another activity? It is hard to think of better times than these we enjoy. Going from what Hollywood has shown us other times and places were like, I would probably choose sometime in the early 1900s living either in England or New York. It was a time of rapid growth in technology and innovation. The courting was oh, so very proper and the men were oh, so very dapper. And without a doubt, I would be a lady of leisure with a trust fund from Daddy. Normally there would always be a scandal in the family and, naturally, I would be at the center of it.

3. Where are you originally from? Whats it like?

Originally I am from Memphis, Tennessee. What is it like? Take the most backward city council you have ever heard of and multiply that by 5, then throw rampant racism into the pot. Simmer nepotism and greed to a rolling boil. Then add gracious beauty, amazing barbecue, soul filled blues. Mix it all together and top it all off with Graceland. Voila!! You have just been to Memphis!

4. Tell us about your families/friends/pets?

My immediate family consists my husband and three daughters. I have two sisters, and one brother in Memphis and another brother in Sydney. I have step brother in Little Rock, and another step brother in Memphis. I have a half sister and I don't know where she lives.

My friends ARE my family, too. Beth, Jenn, Dianne, and Julia are my partners in crime and debauchery. And who could forget Johnny? I could never forget Johnny as one of my very best friends.

Pets? Two lazy cats. Tigger and Sassy. Both as loving as they come.

5. What are your musical influences? favorites?

Well, gosh.... Johnny Angel, of course. Dean Martin and Frank Sinatra aren't too shabby either.

6. Ultimate indulgence(s)?

White fudge covered Oreos, buttered pecan ice cream, hot salty buttered popcorn, sneaking away to afternoon matinees, bubble baths, Long Island Iced Teas, and slow, lazy Mondays.


7. First love?

Oooooooo --- well now.. This should get me in trouble. My first love was a young man in high school. An artist and a musician. He was the funniest person I knew and the best friend I could hope for. He was such fun to be around. His positive attitude was infectious. He introduced me to comic books and showed me how to laugh. To this day I still feel a giggle welling up inside me when I think of him. Still I feel the affects of my first love. What happened? He broke my heart.

8. What ALWAYS puts you in the mood?

Glowing candlelight, red wine, soft music, and soft, gentle kisses ALLLLL over.

9. Turn ons? (doesnt have to be THAT ya'll...just whatever makes you
happyhappy)

Time spent with my family is what I live for. Danielle, 17, Autumn, 10, and Savannah, 8, are my daughters. They make me happyhappy! Where would I be without my girls? Other turn ons are nights out to see Johnny Angel and the Swingin' Demons, nights IN with my girlfriends, visiting with my sisters, and Mondays.

10. Turn offs?

Obnoxious drunks. Pious women. Bad mothers. Arrogance. ......... and grocery shopping!